... Or not to be necessary ... it's not really a question.
Just when you think there are no
separate
products left to fuse into one, I walk into a
Duane Reade
and find
earTunes
, a hat with built in head phones.
When a winter hat and
iPod
earbuds
are just too much, simply plug your portable player up to your
tobaggan
, and you can listen to music and keep your head warm at the same time.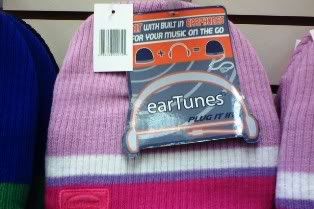 I used to be cynical about the fusion of cameras and cell phones, but look at me now. Perhaps one day I'll wonder how I ever got by without my
earTunes
.